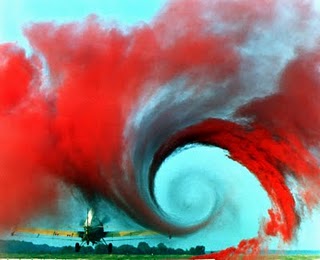 A collection of links to various Dynamical Systems resources
---
Course Info:


Course: Dynamical Systems 1MA217
Lecturer: Denis Gaidashev, Ång 14231, gaidash at math.uu.se
---
Textbooks:


Primary text: M. Brin, G. Stuck, Introduction to Dynamical Systems, Cambridge University Press 2002.


Secondary text: M. W. Hirsch, S. Smale, R. L. Devaney, Differential Equations, Dynamical Systems and an Introduction to Chaos, Academic Press (Elsevier) 2004.


Bits and pieces from: A. Katok, B. Hasselblatt, Introduction to the Modern Theory of Dynamical Systems, Cambridge University Press 1995.


---
TAKEHOME, DUE JAN 1, 2017, FINAL VERSION, 9 problems
---



Things on the current agenda:

My Lecture Notes, based on BS and KH, a work in progress, updated 2016/11/28.

Period three implies chaos, J. Yorke ans T.-Y. Li. A little bit about the exponential map and geodesics on Riemannian manifolds. A horseshoe and stable/unstable manifolds for Henon maps, an applet . O. Lanford's computer assisted proof of the Feigenbaum conjecture and the renormalization hyperbolicity . Universal properties of the maps of the interval, P. Collet, J.-P. Eckmann and O. Lanford . C. Liverani's notes on the stable-unstable manifold theorem . John Milnor's lectures on dynamics in one complex variable . A paper about the recurrence property of the Arnold cat map . Jaume Alonso's slides on the Siegel theorem . Iterations and the bifurcation diagram for the quadratic map Interactive cobweb plot for the quadratic map by Andre Burbanks Paper by J. Banks et al, "On Devaney's Difinition of Chaos".


---
Course Objectives/Outcomes:

1) Understand the fundamental concepts of the dynamical systems, specifically:
dynamics of the quadratic family,
conjugacies, specifically as relates to circle maps,
topological dynamics; recurence, mixing and transitivity,
symbolic dynamics, shifts
hyperbolicity and structural stability,
stable and unstable manifolds, homoclinic and heteroclinic intersections, horseshoes,
fundamental concepts of continuous dynamics, Poincare-Bendixson theorem, Poincare return maps, etc
fundamental concepts of Hamiltonian dynamics and Kolmogorov-Arnold-Moser theory,
fundamental concepts of ergodic theory,
some concepts from complex dynamics, such as Julia and Mandelbrot sets.
2) Solve representative problems in the above-mentioned topics.

3) Carry out numerical studies of dynamical systems.

4) Understand and be able to explain/present some applications of the theory.



---
Grading:


There will be a takehome final, 100% of the final grade.
---
Schedule
Below: BS stands for Brin-Stuck, HSD for Hirsch, Smale and Devaney, KH for Katok Hasselblat.
2016-08-30

Introduction, course information.
What is "dynamics"?
The quadrtic family as the fundamental example of a chaotic dynamical system.

Reading: 1.1 BS, 1.5 BS, 15.1 HSD, 15.3 HSD, 15,4 HSD



2016-09-01

The quadratic family continued.

Reading: 1.1 BS, 1.5 BS, 15.1 HSD, 15.3 HSD, 15,4 HSD



2016-09-07

The quadratic family continued.
Expanding endomorphisms of the circle

Reading: 1.3 BS, 1.4 BS. 1.9 a) and b) in KH



2016-09-08

Symbolic dynamics.
Topological dynamics: transitivity and mixing.

Reading: 2.2 and 2.3 BS, Lemma 1.4.2 in KH



2016-09-14

Topological dynamics continued: transitivity and mixing.
Discussion of the Devaney's definition of chaos.
Topological dynamics continued: limit sets, reccurent sets.

Reading: Paper by J. Banks under "Current Agenda", 2.1 BS, 3.3 KH, 10.1 HSD



2016-09-14

Topological dynamics continued: transitivity and mixing.
Discussion of the Devaney's definition of chaos.
Topological dynamics continued: limit sets, reccurent sets.

Reading: Paper by J. Banks under "Current Agenda", 2.1 BS, 3.3 KH, 10.1 HSD



2016-09-16

Irrational rotations of the circle.
Topological dynamics continued: topological entropy.

Reading: 1.3 BS, 3.3 KH, 2.5 BS, 2.6 BS, 1.9 c) and d) in KH



2016-09-20

Topological dynamics continued: topological entropy.

Reading: 2.5 BS, 2.6 BS, 1.9 c) and d) in KH



2016-09-23

Subshifts.
Perron-Frobenius Theorem.

Reading: 3.1 BS, 3.2, 3.3 BS, 1.9 in KH



2016-09-26

Perron-Frobenius Theorem.
Circle homeomorphisms.

Reading: 3.3, 7.1-7.2 BS



2016-09-30

Circle homeo- and diffeomorphisms.

Reading: 7.1-7.2 BS



2016-10-05

Circle homeomorphismsm, rotation number.
Denjoy's example of a non-transitive circle diffeomorphism

Reading: 7.2 BS.



2012-10-11

Poincare's classification of irrational circle homeos, possible limit sets for an irrational circle homeo.

Reading: 7.1-7.2 BS, 11.1 KH.



2012-10-14

Ordered families of orientation preserving homeomorphisms, monotonicity of the rotation number.

Reading: my notes, 11.1 KH.



2012-10-24

Devils staircase, Arnold's tongues
Rational rotations
Circle diffeos, Denjoy's theorem

Reading: my notes, 11.1 KH, 11.2 KH.



2016-10-31

Introduction to Kolmogorov-Arnold-Moser theory.

Reading: Jaume Alonso's slides on the Siegel theorem in Current Agenda, a full proof in Carleson-Gamelin, 12.3 KH, 12.5 KH, Another proof of a version of the theorem, page 21 here



2012-11-3

Reading: 7.3 BS.



2012-11-08

Reading: 7.3 BS.



2012-11-15

Period doubling and renormalization

Reading: my lecture notes



2012-11-17

The linearization problem and the Hartman-Grobman theorem
The Hadamard-Perron Theorem.

Reading: my lecture notes, Liverani's notes in Current Agenda



2012-11-28

The Hadamard-Perron Theorem.
Hyperbolic sets and shadowing.

Reading: my lecture notes, Liverani's notes in Current Agenda



2012-11-30

Hyperbolic sets and shadowing.
The horseshoe.

Reading: my lecture notes



2012-12-7

Persistence of hyperbolic sets.

Reading: my lecture notes